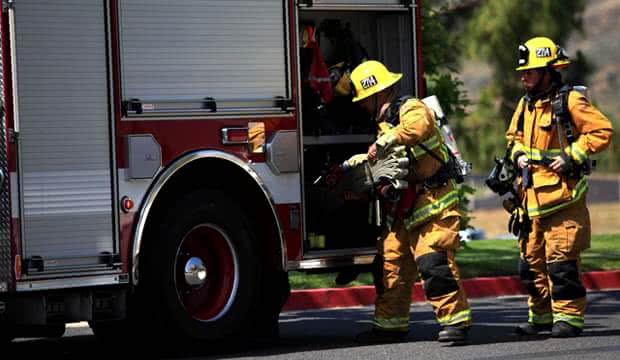 Have you taken measures to prevent fires in your mobile home? This is one of the biggest risks property owners face, both due to the danger and the high cost of repairing fire damage. However, most fire outbreaks could be avoided by completing proper maintenance and taking precautionary measures. We've used our industry expertise as leading mobile home insurance providers to share five easy ways you can prevent fires from occurring in your property.
1. Smoke detectors
Smoke detectors are so important for preventing fires that they're usually listed as mandatory. For comprehensive security, your mobile home needs at least two mounted high on the wall or ceiling. One should be situated near the bedroom, and one should be located in the kitchen where most fires break out. At least one should be battery operated in case there's a power outage, and the batteries should be replaced every year.
2. Flame retardant materials
If a fire does break out, using flame retardant materials in the home can help prevent it from getting out of control. These should be used for all textiles within the property, such as curtains and couch cushions, as otherwise these furnishings will work as fire fodder.
3. Fire extinguishers
Fire extinguishers are essential for putting out fires before they become dangerous. When choosing the extinguishers make sure they're dry chemical extinguishers and are suitable for class A, B and C fires, as this is the most secure option. Moreover, they should be kept near the sources of fire in mobile homes; the kitchen and the furnace. Since quick action is vital, all occupants should be taught how to use the extinguishers.
4. Safe electrical wiring
Electrical faults are a leading cause of fire in mobile homes, and so great care should be taken with the wiring. Make sure all wires are safely enclosed in rubber casing and that only the correct fuses and breakers are installed. Always use a certified electrician, and don't be tempted to try DIY.
5. Safe Appliances
Unsafe electrical appliances are just as dangerous as faulty electrical wiring. To avoid them causing a fire, make sure all the appliances chosen for the property are certified. Replace frayed cords immediately and never run them under rugs or other places where they could be damaged. Additionally, make sure you never overload electrical outlets with too many extension cords, as this can cause fuses to blow.
Does your mobile home insurance include comprehensive fire cover?
Though prevention methods are important, protection also needs to be in place in case a fire does occur. If the worst case scenario happens, you need to be able to complete repairs or purchase a replacement in a timely manner, which is why the best mobile home insurance includes mobile home contents insurance and fire cover.
This isn't to be confused with fire brigade cover, which is what the majority of policies offer, and only offsets/contributes to the cost of the emergency services. As a result, it's important to discuss this with your broker so you can rest assured you have comprehensive cover in place.
Another point to clarify when looking at mobile home insurance is whether or not cover is extended to when a fire begins in another area before spreading to your property. Since some fires may begin in another home, or communal area in a mobile home park, it's vital to negotiate with your insurance company so this is covered.
Want to learn more about finding the best mobile home insurance?
For more information on insurance for mobile homes, contact OBF today. Our expert team of underwriters would be happy to discuss the specifics of your policy.