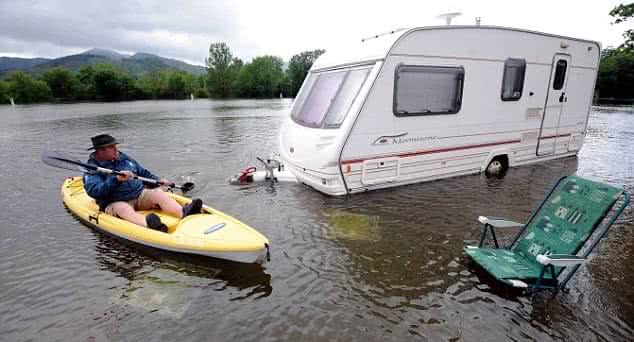 Updated April 2022.
Flooding can cause extensive damage to caravans and camping sites. Reports of caravans being washed away or damaged beyond repair are common, and so to help we've listed essential steps you can take to protect your caravan, whether it's static or touring.
1. Higher Ground
One of the easiest ways to minimise risk of flood damage to your caravan is to situate them on higher ground. If you're keeping yours in a caravan park or storage site, ensure the site high above sea level or a safe distance from any rivers so it's less likely to get flooded. Make sure to choose the highest possible ground in the site, with a clear path to the exit in case evacuation becomes necessary.
2. Axles
Unfortunately some people might have difficulty moving their static caravans, and so investing in axle stands is a good alternative. These can raise your caravan above ground level by about 0.5m, preventing flood water from reaching the interior. As well as this, axles allow the wheels to be removed and stored elsewhere if necessary, which can extend their life time by protecting them from sunlight, debris in the water, and fuel/oil spillages.
3. Flotation Devices
Another option is a flotation device, which are buoyant steel-enclosed polystyrene blocks that float your caravan on up to 11 feet of water. Once the water subsides, they return to the original position, as long as you've used an anchor to stop your home from floating away with the flood. These can be a more pricy option, but companies such as Marche Industries can help you to find a suitable option for your caravan.
4. Flood Plan
Before you choose a site, you should ask if they have a flood plan in place. This should include any emergency contact numbers, and list actions which residents should take during a flood to keep their caravans safe. Most will also recommend ways to protect your belongings, as well as provide the best possible routes to take if you're evacuating your caravan or tent.
5. Early warning
If you have sufficient warning of a flood, the best option is to move your caravan or tent away from any sites that expect flooding. If it's an established campground, the manager should be able to warn you if it has flooded from heavy rains in the past, or if any particular area of the park might be susceptible to flooding.
6. Caravan Insurance
Whether you own a static or touring caravan, it's advised you take out caravan insurance to protect your investment. While we hope you don't need to use it, having a comprehensive policy makes sure any damage that does occur can be repaired at minimal financial loss to you. Plus, it gives you invaluable peace of mind during bad weather.
7. Protective measures
Many caravan parks will also provide protective equipment along with a flood plan. They most commonly offer sandbags, pallets and emergency power generators to residents who require them. However, as they are not legally required to provide these, you should enquire about their availability before you pick a site to stay in.
We hope this helps you protect your caravan from flood damage! For more advice on protecting your caravan, check out our previous posts or our customisable caravan insurance policies.