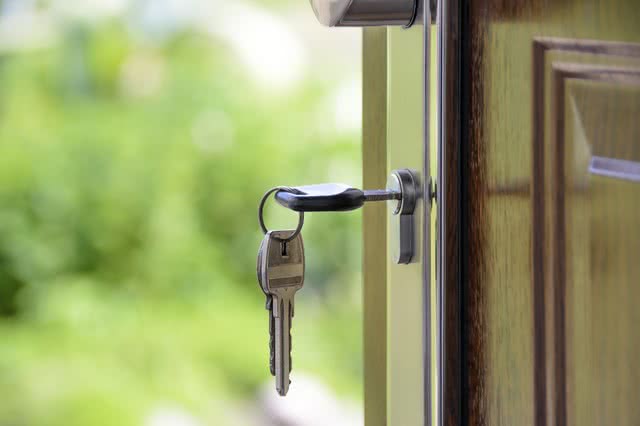 Implementing security measures to protect any property against theft or vandalism is important, but it's especially necessary for unoccupied homes. After all, the lack of a physical presence on your vacant property makes it far more likely to be targeted by thieves, vandals or squatters. There are a number of effective security measures that you can implement to improve the safety of your unoccupied home.
1. Motion Sensor Lights
Motion sensor lights are a great way of drawing attention to any unwanted activity on your property. Once you install the lights, it's important to let your neighbours know if nightly visits are uncommon, so they know to raise the alarm if the lights suddenly switch on. The sudden brightness can often be enough to spook any would-be thieves! For the best protection, position motion sensor lights on all sides of the property and ensure that the light doesn't interfere with any security cameras on the property.
2. Minimum Security Requirements
Sometimes, the most traditional measures can provide the highest level of security. Most insurers require a minimum level of security such as:
– External Doors – 5 Lever mortice deadlocks.
– Patio doors – In addition to a central locking device, key operated bolts to top and bottom opening sections.
– Windows – Key operated security locks to all ground floor and other accessible windows.
If you do not meet this your property would not be covered for any damage arising from burglary, theft or attempted theft. If an alarm is installed this would generally override any minimum security requirements but check with your provider first.
3. Physical Presence
Though unoccupied houses can't have a physical presence 24/7, appointing someone to visit the property at least once a week vastly improves their security. This allows you to check for any evidence of attempted entries, like marks on the doors or broken windows, and can also work to prevent trespassers. After all, frequent visits can prevent anyone scouting your home for a burglary from feeling secure enough to attempt entry. For these reasons, having your property checked regularly is a requirement of most unoccupied house insurance policies.
4. Timers for the lights
Installing a timer for your lights is an easy way to ensure your property appears occupied. These installations are discrete and easily installed over your light sockets, with no wiring required. Once they're set up, they then turn your lights on at pre-set times in the day, deterring trespassers who wait until your house appears unoccupied.
5. Alarm System
Alarm systems are one of the most important steps you can take to protect your property, which is why they're actually a common requirement of insurance for unoccupied houses. They don't just alert the authorities to a break-in, but also work to deter crimes in the first place. After all, the majority of burglars try to determine if there's an alarm installed before attempting entry, and do their best to avoid homes with such security systems in place. For greater security, make sure you choose a system that automatically sends an alert to you, any local key holders and the authorities if the alarm goes off.
6. Monitored Security Cameras
The mere presence of a security camera can help to protect an unoccupied home. Install both visible and hidden security cameras to ensure that even if a thief plans a break-in around the positions of visible cameras, they are still caught on camera. Even if someone is bold enough to take the risk, having the cameras monitored means action can be quickly taken to protect your home and its contents. Your security cameras can be monitored remotely 24/7 by a security firm or of course, you could check in on the property yourself on your laptop or smartphone.
Read our previous blog posts for more great tips and information regarding protecting your unoccupied home. For expert advice and assistance with insuring an unoccupied house, feel free to contact our expert team.