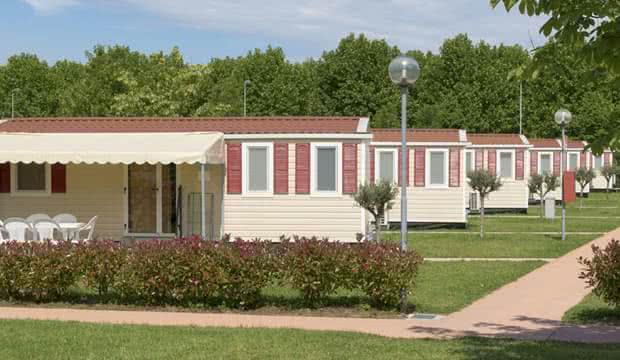 Prepare your mobile home for cold. The majority of weather damage occurs because of the harsh conditions at this time of year, making protective measures essential. As the leading mobile home insurance provider in Ireland, the experts at OBF Insurance Group have created a quick list of our top tips to help you secure your mobile home in the cold.
1. Drain your water system
If you're not inhabiting your mobile home during the frosty months, you should drain the water system before cold weather hits. This prevents the pipes from freezing and bursting, damaging your property in the process. In fact, this is so essential that it's probably written into your mobile home insurance policy.
2. Add extra insulation
If you're staying in your mobile home during the cold weather, you need to make sure the pipes don't freeze by adding extra insulation. However, make sure you notify your insurance company so they are aware you are living in the unit at this time. They may need to adjust the policy accordingly.
3. Avoid causes of condensation
Damp can cause irreparable damage to mobile homes, and so should be avoided at all costs. As a result, you should ensure your clothes dryer vents all the way outside and regularly air out the home to avoid condensation.
4. Look for the best mobile home insurance
If your property isn't currently insured, it's time to start asking for mobile home insurance quotes. The harsh weather increases the risk of damage to your home, and if the worst does occur, you'll want to be able to begin repairs as soon as possible.
5. Clear the gutters
Debris from falling leaves can block your gutters during the colder months, causing a range of problems for your roof. If the water is unable to drain, ponding (pools of water that cause the roof to sag) or leaks are likely to spring up, threatening the security of your roof.
6. Remove Items for the Winter
To prevent any clothing, bed clothes or curtains becoming damp during the cold months it is best to remove these items from the mobile home during this time. Ensure that any food has also been removed and the carpets or lino hoovered to ensure no traces of food remain.
For more advice to protect your property this season, contact OBF today. Our team of experts are available to discuss how a comprehensive policy and mobile home contents insurance will secure your property.