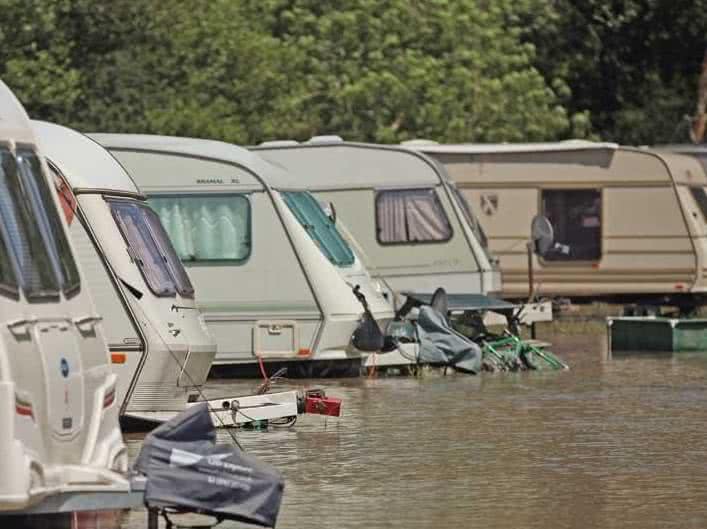 Flooding can have disastrous consequences no matter what type of property you own. However, it presents unique problems for touring caravans. While prevention is the best cure, moving your caravan to higher ground isn't always possible. As a result, the rising flood water can easily enter your caravan through the vents on the lower half of your structure, damaging the interior. We understand it can be difficult to know what to do at times like these, and so we've listed the actions you should take below.
Assess the Damage
As soon as the water subsides, you should start to assess the damage – enlist the help of a caravan expert to do so. Most caravans have wooden interiors, and so the floor and the units become warped from their submersion in water. Even if your caravan looks fine, damp can linger under the floors or in the walls, posing serious health risks. Plus, many caravans use metal fixtures to attach the walls to the floors. These may rust in flood water, and so extensive repairs may be needed to make the structure secure again.
Contact Tradesmen
You should also contact an electrician and plumber if you have oil or gas heating, as your appliances may not be safe to use. If water has got inside the casings, it can cause electrical shocks or start a fire the next time the devices are used. Likewise, if the water has corroded the pipes of your heating system, the fuel inside could escape, further damaging your belongings and posing a serious health and safety risk. That's why you should have any lights, appliances or heating examined before you attempt to turn them on, and should never touch electrical appliances while standing in remaining flood water.
Update your insurer
It's incredibly important to update your insurer of the situation immediately. Unfortunately, if you leave it too long you could invalidate your caravan insurance, meaning your provider isn't required to provide cover. Notifying them early also allows them to cover the cost of any needed repairs as soon as possible.
If your caravan is damaged irreparably, many insurance policies include new-for-old cover. This means that you get a brand new caravan to replace your old one, allowing you to continue on with your holidays. In the meantime, your provider should contribute toward the price of alternative accommodation if your caravan can't be lived in during the holiday period.
Contacting your insurance is even more vital if your caravan has been swept away, causing damage to the local area. Most caravan insurance policies in Ireland will include public liability cover, meaning you don't need to worry about the costs of potential lawsuits.
We hope our advice helps you keep your touring caravan on the road. For more information on storing or travelling with caravans, browse our previous posts or check out our customisable policies.