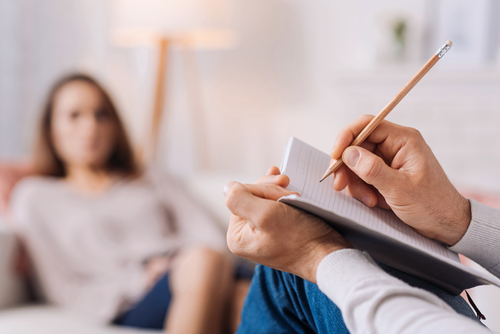 Therapist and counsellor's insurance is essential for protecting your career, but how does it differ from standard professional indemnity cover? Ultimately, since it's specifically designed for these professions, the conditions are likewise tailored to address industry-specific risks.
In order to avoid accidently invalidating your policy, it's important to be aware of these customised clauses. Therefore, the team at OBF has decided to use our underwriting expertise to share five key insurance conditions every therapy and counselling practitioner should be aware of.
1. Extra caution is required when working with minors
When working with clients under the age of 16, you must meet additional conditions in order to avoid invalidating your insurance for counsellors and therapists. First of all, a parent, legal guardian, or nominated, responsible adult must be aware of the therapy.
They should be available to monitor the client's well-being before, during and after the treatment. Moreover, a legal guardian must sign a consent form before treatment begins to demonstrate their approval.
2. Your insurance only covers the provision of therapy(ies)
Insurance for therapists and counsellors is specifically for your role as a provider of therapy. It does not cover claims made in relation to any of your other duties or actions. Even if these claims are in relation to your professional life, unless they are expressly to do with your provision of therapy, your therapist insurance policy will not cover them. For example, any liability incurred as a director, officer or trustee of a company will likely not be insured.
3. You must recommend further medical care if required
As a therapist or counsellor, you have a duty to ensure your clients receive the medical care they require. As such, you have a duty to refer them to other healthcare service providers such as nurses and midwives, surgical, medical and dental practitioners, ambulance personnel and paramedics, laboratory staff, relevant technicians, as well as any other professions allied to medicine if required.
Failure to refer a patient when needed will result in your therapists and counsellors insurance cover being invalidated in the event of a claim.
4. All attempts must be made to remain honest
If you are dishonest, either to your clients or to your insurance company, your therapist and counsellor insurance cover is instantly invalidated. Moreover, this includes any dishonesty committed, condoned or contributed to by you, any of your employees, or any company working on your behalf. Under this condition, dishonesty also includes being influenced by narcotics or other intoxicants while at work.
5. Digital breaches are not covered
Keeping your clients' information secure is part of your duty as a therapist or counsellor. However, if your computers, software or other electronic processing device fail in anyway, interruptions to your business or claims arising from this will not be covered.
Under these circumstances, the technological failures include transmission of viruses, hacking, or loss of data. If you are storing sensitive client data, it is wise to also take out cyber insurance cover.
For more information on counsellor's and therapist's insurance, as well as how it can protect your career, contact OBF today. Our team of expert underwriters would be happy to discuss how our counsellor and therapist insurance policies can be customised for your specific needs.